Whitepaper | Dyplo 2.0: FPGA centric software acceleration made easy Monday 19 July 2021
This week we released our Dyplo 2.0 version!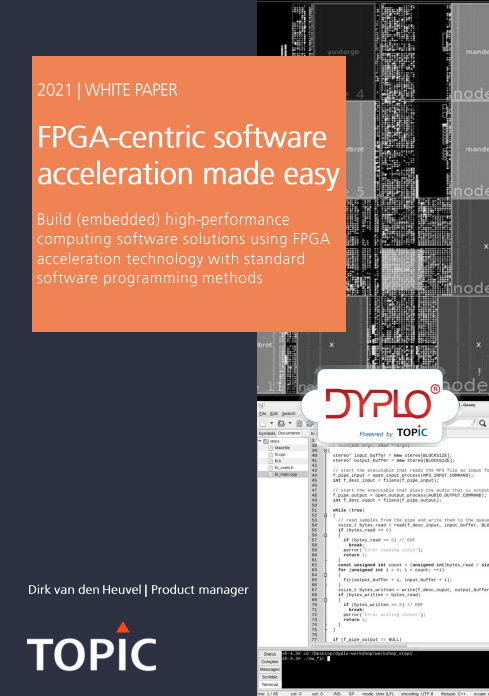 What is Dyplo about?

Dyplo is TOPIC's Dynamic Process Loader, built on Xilinx dynamic function exchange (DFX) technology and high-level synthesis. Combined with our unique Network-on-Chip architecture and software API, the use of FPGA technology in a software development context is made available for every application programmer. If you are able to work with CUDA or OpenCL on a GPU, you definitely can work with Dyplo 2.0 utilizing FPGA logic: more performance, less power, higher throughput.

What is new in the 2.0 release?

Dyplo 2.0 supports the latest Xilinx devices, including the Alveo boards and cloud-based systems. A major improvement is the increase of the internal data architecture from 32 bits to 64 bits and the support for low-latency, high-performance complex data processing, such as frame-based 4K video processing. Also the DMA engine performance and flexibility is further improved to meet the challenging design requirements of nowadays' systems.
The Dyplo Development Kit (DDK)

The support by Dyplo 2.0 for Xilinx Alveo boards makes it very easy to incorporate Xilinx FPGA technology in cloud or edge accelerated solutions. Especially for the introduction of Dyplo 2.0, TOPIC has a limited offer for the Dyplo Development Kit. This kit consists of an Alveo U50 board, running a Dyplo 2.0 acceleration framework that integrates with Linux and Windows. We offer the Dyplo Development Kit until October 1st, 2021 for only 1.750.- US$ per system. So, be quick and start enjoying the benefits of true computational acceleration. Contact Dirk van den Heuvel via sales@topicproducts.com for details and conditions.
For more information on Dyplo and the Development Kit introduction offer please feel free to contact Dirk van den Heuvel or go to www.dyplo.com.
Making the world better, healthier and smarter: we are your partner in technology.