world's most advanced radio telescopes

global collaboration

massive parallel data aquisition
Project features:
High bandwidth data communication

Complex combination of hardware, firmware, and software
Correlation and processing of signals into detailed science data
Key technologies and skills:
Data communication and distribution within a typical data center context. Use of state-of-the-art AMD-Xilinx Alveo processing cards carrying high-end FPGA devices for astronomic data processing. Combining multi-disciplinary system development skills for integration, validation, configuration and testing against requirements.
The SKA telescopes:
The SKA project is an international effort to build the world's most advanced radio telescopes, with over a square kilometre (one million square metres) of collecting area envisioned. It is an exciting and challenging scientific mission to change our understanding of the Universe, led by the SKA Observatory (SKAO). In Australia, the SKA-Low telescope will consist of more than 100,000 antennas that will detect low-frequency radio waves, while South Africa's SKA-Mid telescope will feature nearly 200 dishes focused on mid-frequency radio waves.
From the SKA-Low site in the Western Australian outback, typically 7.2 terabits of data will be transferred each second over hundreds of kilometres to the processing facility in Perth. Since the signals from space reach each antenna at a slightly different time, they must first be precisely aligned, in real time. This is achieved thanks to extremely accurate atomic clocks that timestamp the time each signal is sampled. The received signals are processed by a complex Central Signal Processing (CSP) computing system to align, correlate, form beams and initially process the data before transferring it to a high-performance supercomputer, the Science Data Processor.
TOPIC's contribution and know-how: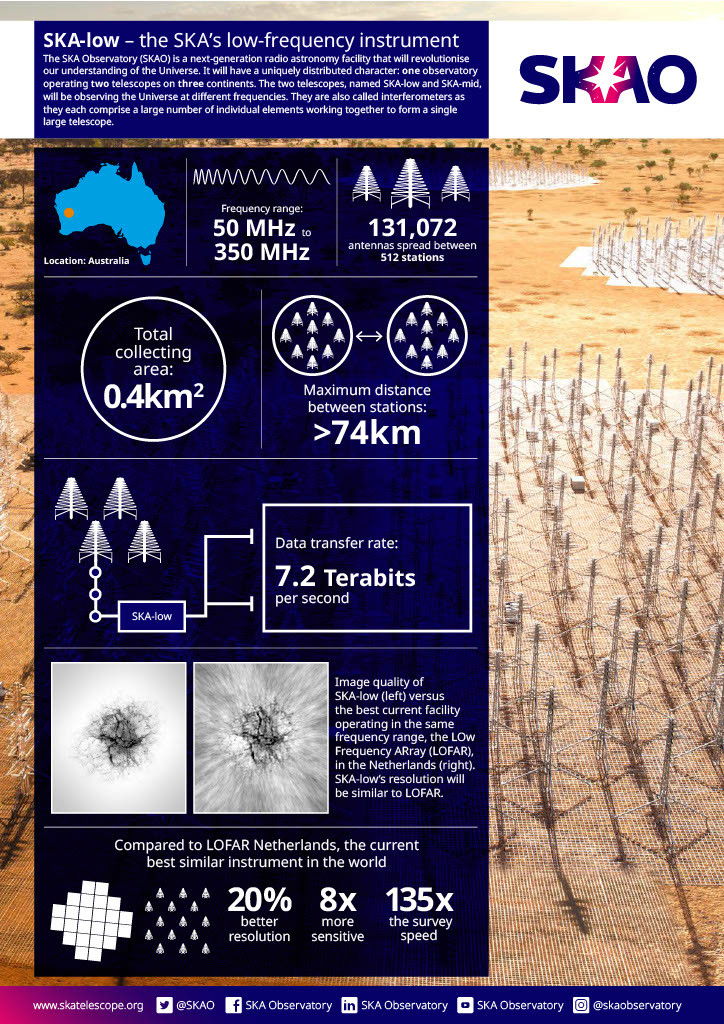 The signal processing will take place in the SKA-Low Central Signal Processing (CSP-Low) computing system. TOPIC is responsible for the integration and delivery of the CSP-Low to the processing site. As the central processing 'brain' of the SKA low-frequency telescope, the CSP-Low will convert digitized astronomical signals detected by the SKA-Low receivers into data that can be used to generate detailed images and science data products such as pulsar search and timing capabilities. It is a highly complex combination of hardware, firmware, and software working together in real time.
CSP-Low is developed by a multi-disciplinary consortium, overseen by TOPIC. The TOPIC team integrates and prepares the CSP-Low system baselines into a state ready for commissioning on site in Australia.
For this project unique infrastructure was established at the TOPIC office in Best, which is the hub and staging area for integration activities of the Central Signal Processor. From here multinational teams will be working on the integration and testing of various products (Correlator and Beamformer, Monitoring and Control, Pulsar Search, Pulsar Timing) that form core building blocks of the Central Signal Processor.
For more information on the SKA project, the CPS-Low and the TOPIC contribution, feel free to contact us or visit the official SKAO website: https://www.skao.int.
Images credit: SKAO